Canada Photo Convention interviewed Edmonton based wedding photographers Shandro Photo about their upcoming presentation at CPC Toronto, "Indian Weddings 101."
Even during a casual chat over coffee, everything about Haley Shandro exudes one thing: drive. Beaming with a passion that overflows her five foot, two-inch frame, Haley shared snippets of the Shandro Photo journey, a sneak peek into their Canada Photo Convention content, and her best advice for other photographers.
Like so many whose photography career has become an indispensable part of who they are,  the beginning of what is now Shandro Photo started with an unplanned foray into the craft.
"It's a very random story," Haley says. "Michael and I had a friend who was starting a photography company and he was on his first summer shooting weddings. I had always been interested in photography – I went to New Zealand and took 20 rolls of film with me and used every single one… I loved it. Anyways, this friend was looking for assistants to help with his company, and somehow we heard about it and ended up shooting a couple  weddings with him. I shot a couple, and Michael shot a couple, and we both found that we really liked it and people responded really well to us. It was an interesting experience working with someone else, because it gave us a bit of perspective on if we did start a business, where we would want it to go. So, after that, we put up a website and….boom!"
Read the full interview here.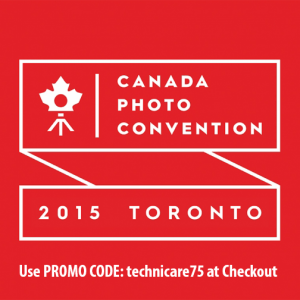 CPC2015 TORONTO
October 21-22, 2015
Every conference ticket includes wi-fi, a seat at each of the listed presentations, light lunch and refreshments.
Early bird $550 (reg. $750). Early Bird pricing ends June 1st! Get an extra $75.00 discount if you sign up through us! 
Use Promo Code technicare75 at checkout.
[su_button url="https://canadaphotoconvention.com/technicare75″ style="flat" background="#ef2d35″ color="#ffffff"]Sign Up NOW![/su_button]